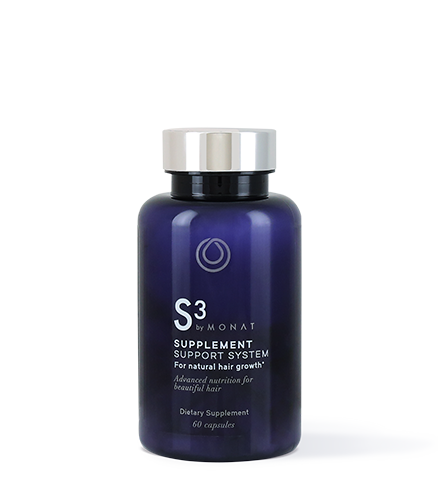 S3 SUPPLEMENT
SUPPORT SYSTEM*
---
Advanced nutrition for beautiful hair, because it's yours!
VIP Customer Price
$50.00 (USD)

Retail Price
$59.00 (USD)

To learn more about S3 by MONAT, please contact your MONAT Market Partner.
Healthy hair from the inside out
The little things you can do for yourself often have the biggest impact, and S3 by MONAT is no exception.
Precisely formulated daily nutritional
Includes clinically proven ingredients
Take (2) capsules daily, preferably with a meal or as directed by your healthcare practitioner.
Get ready to take your hair growth to the next level with our unparalleled Supplement Support System – S3 by MONAT!
Unleash the power of S3 with 1, 2, 3:
Exclusive Proprietary Blend
Clinically Proven Ingredients
100% Drug Free
MONAT has raised the bar in hair nutrition with the supreme proprietary blend of S3. Each of the clinically proven ingredients work together synergistically to replenish the system of possible nutrient deficiencies that could be contributing to hair loss. S3 provides a holistic hair regrowth treatment that works to promote enhanced hair growth from the inside out.
WE SAY "NO" TO TOXIC INGREDIENTS.
Parabens
SLS/SLES
Cyclic Silicones
BHT
DEA/MEA
Polyethylene Glycol
Phthalates
Phenoxyethanol
Petrolatum
Mineral Oil
Paraffin Wax
Triclosan
Plastic Microbeads
Formaldehyde Releasers
Harmful Colors
Harmful Fragrances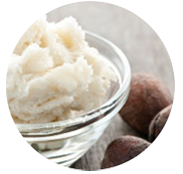 OptiMSM®
A rich source of sulfur and a key component of collagen and keratin that supports the structural integrity of the hair and skin.
ACTIVAloe®
Improves the elasticity of both the hair and skin. Helps to improve the appearance of aging skin and hair.
EVNol™
May promote hair growth and increase the amount of hair in individuals experiencing hair loss.
VITAMIN A
(as beta-carotene) - counteracts Vitamin A deficiency which is common in people who are experiencing hair loss.
BIOTIN
provides structural support to the hair shaft and follicle.
ZINC
Contains anti-aging properties which are beneficial to hair health.
Amount per serving
% Daily Value
Vitamin A (as beta-carotene)
8,000 IU
160%
Vitamin C (as ascorbic acid)
60 mg
100%
Vitamin B1 (as thiamine hydrochloride)
2 mg
133%
Riboflavin (vitamin B2)
2 mg
118%
Vitamin B6 (as pyridoxine hydrochloride)
2 mg
100%
Folate (as folic acid)
200 mcg
50%
Vitamin B12 (as cyanocobalamin)
50 mcg
833%
Pantothenic acid (as d-calcium pantothenate)
10 mg
100%
Zinc (as amino acid chelate)
10 mg
67%
Selenium (as selenium amino acid chelate)
25 mcg
36%
Copper (as copper amino acid chelate)
1 mg
50%
Proprietary Blend:
OptiMSM® (methyl sulfonyl methane)
ACTIValoe® (Aloe Vera extract 200:1) (Aloe barbadensis) (leaf)
EVNol™ Natural d-Mixed Tocotrienols (d-alpha, beta gamma & delta tocotrienols) 
900 mg
**
**Daily Value not established
Other ingredients: Hypromellose, rice flour, silicon dioxide and vegetable magnesium stearate.
*These statements have not been evaluated by the Food and Drug Administration. This product is not intended to diagnose, treat, cure or prevent any disease. Pregnant or lactating women should consult a physician before taking this product.
OptiMSM® is a registered trademark of Bergstrom Nutrition.
ACTIValoe® is a registered trademark of Aloecorp Inc.
EVNol™ is a trademark of ExcelVite Inc. and protected by US Patent No-7,211,274.